Star wars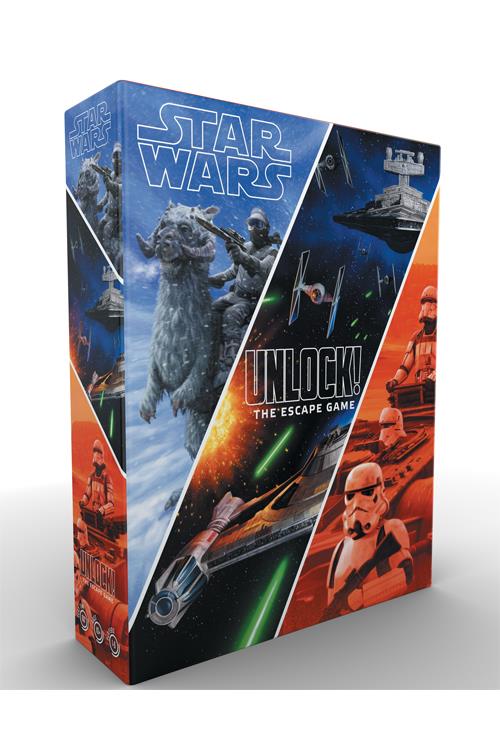 Denne gang er temaet for spillene Star wars og hvis man synes godt om Star wars universet, så holder Unlock sig tro mod det uden at skuffe. Der er 3 spil i kassen, som stiger i sværhedsgrad og med hver deres tilgang til temaet. Man skal dog være opmærksom på at "Unlock: Star wars" har sin egen app, så man kan ikke bruge den normale app til dette spil.
Efter at have spillet 4 forskellige Unlock spil, så er dette klart vores favorit, da der er mange fede features med, både blandt kortene i sig selv, men også i appen. Vi var både underholdt og udfordret, så det kan vi godt anbefale.
En af de nye tiltag, til forskel fra de andre Unlock spil, er at man skal vælge 3 "bonus" kort inden man starter på de forskellige spil. Disse bonus kort giver noget information/hints der kan bruges i løbet af spillet. Ud fra kortets titel på bagsiden, kunne man så forsøge at gætte sig frem til hvilke der var mest brugbare. Det varierer meget hvor gode disse kort er og hvor stor forskel de reelt gør for spillet, men det var en sjov gimmick.
Generelt er der er mange gode gåder i alle tre spil og flere af dem har vi ikke tidligere har set i escape kortspil, hvilket jo kun gør underholdningsværdien større og indikerer at "Unlock: Star Wars" har fået en opgradering. Især appen har nogle fede maskiner man kan aktivere og som skal løses på nye kreative måder.
Escape from Hoth
Som titlen indikerer, så skal man i dette spil hjælpe oprørsstyrken med at flygte fra planeten Hoth, mens imperiets styrker prøver at stoppe det. Det er det første og letteste af spillene, men det sætter en god stemning for resten af spillene og så er man godt i gang.
An Unforeseen delay
Som smugler skal man fragte en dyrebar last for Jabba the Hutt, men Imperiets agenter har taget dig til fange og beslaglagt godset – det er kun et spørgsmål om tid før de opdager de ulovlige varer og man skal derfor hurtigt slippe ud af sin celle, redde sin co-pilot og slippe væk med lasten.
Secret mission on Jedha
Som kejserlig spion skal man infiltrere den hellige by Jedha. Et lastskib er styrtet ned i ørkenen med dyrebare krystaller, og disse skal erhverves uden at den lovløse Saw Gerrera får nys om dem. Der skal samles en del information sammen før opgaven virkelig sættes i gang, og den kejserlige kommando kredser om Jedha indenfor kommunikationsradius for at modtage regelmæssige opdateringer der bruges til at bringe spillet videre. Til dette spil hører et kort der skal udforskes undervejs, og mange detaljer skal som altid tages i betragtning for at løse gåderne korrekt. Vi kom igennem med en del straftid, men man må sige at den gradvise optrapning af sværhedsgraden kunne mærkes på det sidste spil især.
Har du selv prøvet dette spil, hvordan ville du så bedømme det?